Search results for: Kerala Attractions

Trivandrum
Trivandrum, the capital of the state of Kerala, is a beautiful seaside city built on seven hills. The city gets its name from the word, Thiru Ananthapuram meaning the city of Ananth or the abode of the sacred serpent Anantha, on which Lord Vishnu, the preserver of the Hindu trinity, reclines.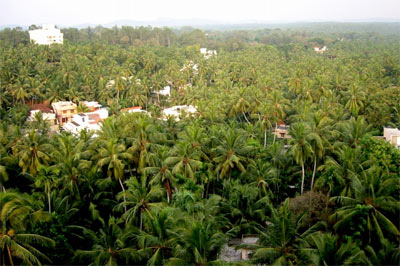 GENERAL INFORMATION
Area :
Altitude : Sea level.
Temperature (deg C): Summer - Max.36.2, Min.20.6; Winter - Max.35, Min.18.
Rainfall : 170 cms (May to November).
Clothings :
Languages Spoken :
Best Season : October to March.
STD Code :
HOW TO GET THERE
Air : Trivandrum is connected by Air-India and Indian Airlines flights with Bombay, Madras, Cochin, Delhi & Colombo.
Fare : Calcutta - Madras Rs.4078/- (C), Rs.3273/- (Y).
Madras - Trivandrum Rs.1996/- (C), Rs.1611/- (Y).
Other private Airlines such as Goaway, East West, Continental Airways operate flight to Trivandrum from Bombay & Goa.
Rail : Trivandrum is directly connected by rail to Calcutta as well as all the major cities in India.
Fare : Calcutta - Trivandrum Rs.1502 (AC-2A), Rs.1312 (I), Rs.370 (II)
Road : Trivandrum is connected by road to several tourist centres in India as: Calicut 448 kms, Cochin 223 kms, Kanyakumari 87 kms, Madurai 417 kms, Periyar 272 kms, Ponmudi 61 kms, Quilon 73 kms, Varkala 55 kms.
Bus : Regular bus services connect Trivandrum to various places in Kerala as well as to Madras, Madurai Kanyakumari etc.
CONDUCTED TOURS
(Operated by Kerala Tourism Development Corporation)
1) City Tour : Timings 0800-1900 hrs (Daily); Fare : Rs.50/-
2) Kannyakumari Tour: Timings 0730-2100 hrs (Daily); Fare : Rs.100/-
3) Thekkady Tour : Timings Dep 0630 hrs (Every Saturday except last Saturday of the month) and Return 2100 hrs (next day);
Fare: Rs.150/-
Booking (1,2 & 3) K.T.D.C Tourist Reception Centre, Tel: 75031.
PLACES OF INTEREST
Padmanabhaswamy Temple, Zoological Park,Napier Museum, Sri Chitra Art Gallery, Science & Technology Museum, Veli Lagoon, Shanmugham Beach, Aruvikkara Dam and Neyyar Dam, SMSM Institute.
EXCURSIONS
Kovalam 16 km, Kanniyakumari 87 km, Padmanabhapuram Palace 54 km, Ponmudi 61 km Quilon 72 km, Suchindram Temple 99 km, Thekkady (Periyar Wildlife Sanctuary) 272 km, Varkala 55 km.
INFORMATION CENTRE
1) Govt. of India Tourist Office Counter, Trivandrum Airport Tel: 71198.
2) Kerala Tourism Development corporation, Touist Reception Centre, Thampanoor, Trivandrum- 695001, Tel: 75031
3) Tourist Information Centre, Govt. of Kerala, Park View, Trivandrum Tel:(0471) 61132.
KOVALAM
16 kms away from Trivandrum, a sheltered bay endowed with unusual beauty. This natural bay is a safe sea-pool free from high waves and surge. And the beach resort here is of international standard.
Alleppey
Alleppey situated in south of Cochin, is the centre for backwater cruises in Kerala. It has a large network of canals which passes through the town, provices its lifeline & has a long sandy beach. It is also the centre of the famous coir products of Kerala. Nehru Trophy Boat Race - the most colourful snake-boat race in Kerala - is held here on the second Saturday of August every year.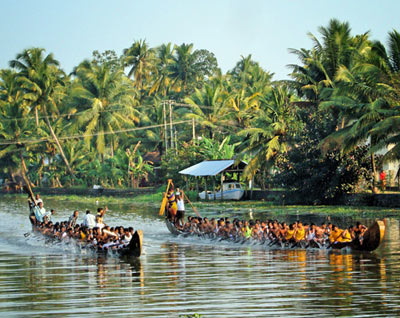 GENERAL INFORMATION
Altitude : Sea Level.
Temperature (deg C): Summer- Max 35, Min 22.5; Winter- Max 32, Min 22.
Rainfall : 254 cms.
Best Season : October to May.
STD Code : 0477.
HOW TO GET THERE
Air Nearest Airport, Cochin (64 kms), is connected by Indian Airlines flights with Bombay, Delhi, Madras, Goa, Bangalore and Trivandrum. East West Airlines also connects Cochin with Bombay.
Fare: Calcutta-Bangalore-Cochin Rs.7092 (US$ 260).
Rail Nearest railhead, Cochin (64 kms), is connected to major cities in India.
Fare (approx): Calcutta-Cochin Rs.3550 (AC-I), Rs.2025 (AC-2A), Rs.1550 (I), Rs.375 (Sleeper).
Road Alleppey is connected by road to all the important cities in south India, as Cochin- 64 kms, Calicut- 289 kms, Trivandrum- 159 kms, Quilon- 85 kms, Haripad- 33 kms, Thekkady- 253 kms, Kottayam- 130 kms.
Bus Services Alleppey is connected by bus with Quilon, Trivandrum, Kanyakumari, Cochin, Trichur, Guruvayoor, Calicut, Palghat etc.
Local Transport Coaches,Tourist taxis,Metered taxis & Auto Rickshaws available.
PLACES OF INTEREST
Backwater Cruise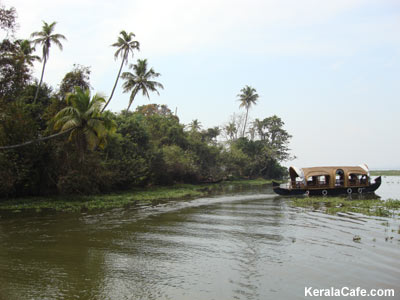 Alleppey is the gateway to the inland water ways of Kerala. Cruise through small canals pasing paddy fields, villages and small water lodged town-ships to enjoy the scenic beauty and to get a glimpse of the unspoiled rural life of Kerala. Backwater boat cruises are conducted by Alleppey Tourism Development Co-operative Society. The important ones are given below:-
Place Distance Journey Time Rates
1) Alleppey-Kottayam 29 kms 3 & 1/2 hours Rs.75
2) Alleppey-Ernakulam (Alternate days) 74 kms 7 to 8 hours Rs.125
3) Alleppey-Quilon (Only one trip) 85 kms 8 hours Rs.150
4) Alleppey-Champakulam 16 kms 1 & 1/2 hours Rs.50
EXCURSIONS
Ambalapuzha (14 kms), Hariped (33 kms).
TOURIST INFORMATION
1) District Information Officer, Collectorate, Alleppey. Tel: (0477) 2549.