Search results for: Kerala Airports
Tips:
On arrival take a prepaid taxi from the airport to your chosen hotel.You will find you can order one in the arrival lounge.This avoids haggling and provides a measure of security.For further short distance travel use taxis or the local bus service(very cheap but buses are generally overcrowded) Hardly anyone wants to use a selfdrive hire car without experience driving on the local roads and they are difficult to come by.A few adventurous types buy a motorbike for the duration of their stay.The legendary Royal Enfield built in Madras being the favourite.Trains are convenient for longer distances and are again very cheap.No need to book seats if travelling shorter distances within Kerala but is a must when travelling further to neighbouring states.
Major Indian Airports
Airports Authority of India

Central organisation managing civil airspace of India based in New Delhi, India. Onsite - profile, history, major thrust area, functions, responsibilities, air safety measures and HRM.
Calcutta International Airport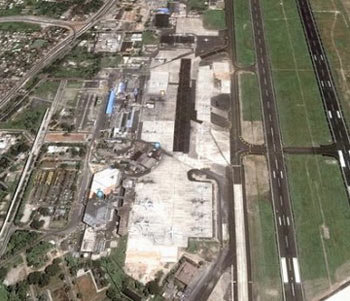 Netaji Subhash Chandra Bose International Airport (IATA: CCU, ICAO: VECC) is an airport located in Dum Dum, West Bengal, India, near Kolkata (Calcutta). The civil airport was originally known as Dum Dum Airport before being renamed in the honour of the Bengali Indian patriot Netaji Subhash Chandra Bose. It has two parallel runways 1-19 L/R, of which the longer one, 1R/19L is used for takeoffs and landings, while the other one is used mostly as a taxiway.
It is located approximately 17 km from the city centre. The airport has three terminals: a domestic terminal (opened in the early 1990s), an international terminal (the oldest terminal) and a cargo terminal.
Recently the airport has been given a facelift, making it one of the better airports in the country.

Kolkata Netaji Subhash Chandra Bose Intl Airport - International terminal. An Air-India Boeing 747 Haj charter just arrived from Saudi Arabia is seen on the apron. NSCB, India's 5th busiest airport overall (9th busiest international airport) in terms of passenger traffic, handled on an average 172 aircraft movements and 16 300 passengers per day in May 2006.

Kolkata Netaji Subhash Chandra Bose Intl Airport - Domestic terminal. This terminal is probably the best and most functional domestic terminal of any major Indian airport. The terminal features three aerobridges and is quite spacious inside.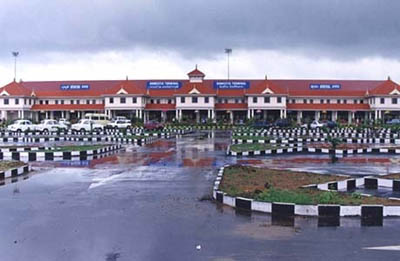 Cochin International Airport (CIAL) is the first Greenfield airport setup in the public private partnership (PPP) model in civil aviation infrastructure sector in India. Cochin International Airport has the state-of-the-art facilities and traditionally designed architecture unique to Kerala, and has been constructed to enable any type of wide-bodied aircraft to land or take off with the least of hassles. The Airport is strategically located with easy access to all three National Highways passing through Kerala (NH 47, NH 17 and NH 49).
The main Railway line from Kanyakumari to Delhi is adjacent to the airport and it is situated between Alwaye and Angamaly Railway Stations.
The Cochin Sea Port, one of the biggest in the country is also situated close by. The Cochin Airport serves as a vital link in International trade, travel and tourism.
The Airport has been planned in phases on a modular basis to suit future requirements and also to minimize the initial investments so as to generate revenue at the earliest possible time.

Goa Airport is one of the busiest tourists airports in India. It caters to both domestic and international flights. Tourists visit this tropical paradise which serves as a recluse hub for them far away from the stressful city life. Dabolim is the main entry point in Goa. It is situated at a distance of around 29 km from capital Panaji on the coast near Vasco da Gama. Domestic and International flights operate from Goa Airport . Indian Airlines, Air India, Jet Airways, Air Sahara, and Air Deccan are the various flights operating from Goa. Goa Hub offers you detailed information related to Goa Airport. It offers online booking facilities for both hotels and flights.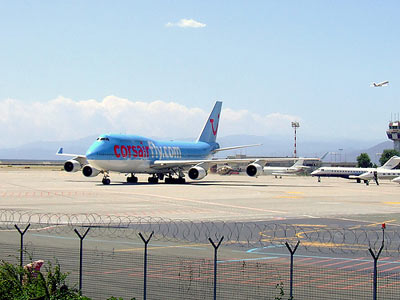 Contact Address:
Goa Airport, Dabolim, Goa
Telephone 91-832-540806
Fax 91-832-541610, 540907
Indira Gandhi International Airport

International airport of India, based in New Delhi, India. Onsite - maps of Delhi, tourism offices, travel agents, airport enquiry and tips for tourist.

International airport of India, based in Mumbai, India. Onsite - guide to Mumbai airport, flight schedules, airport news and related links.