Search results for: Kerala Dining - Kerala Dining, Kerala Cuisine, Kerala Recipies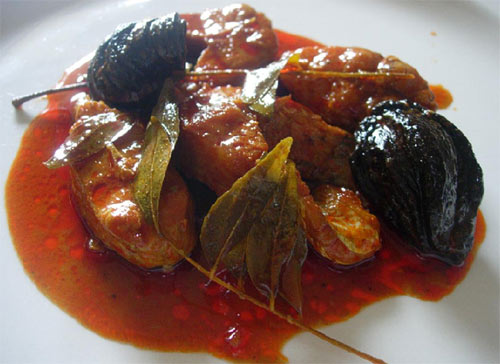 CUISINE
Indian food is often flavored with the non-scalding spices such as cinnamon, cardamom, ginger, cloves garlic, cumin, coriander and turmeric. Spices are used in India to tone up the system the way wines aid the digestion of Western Cuisine.

As for the Cuisine of Kerala, it is midly flavored, gently cooked and has a certain genteel delicacy on the stomach. An example is the rich biriyanis of the northern parts of Kerala. The Malabar Biriyanis.
`Sadya' - the typical Kerala feast served on a banana leaf, is a sumptuous spread of rice and more than 14 vegetable dishes, topped with `payasam', the delicious sweet dessert cooked in milk. A typical Kerala breakfast may be `idli' ,sambar, dosai and coconut chutney.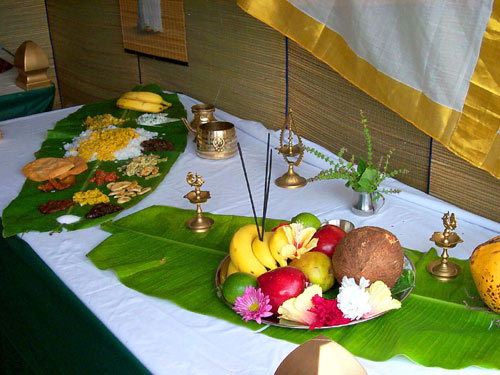 As in much of South India, there is a tendency towards vegetarian food. However, the Muslims and Christians excel in non-vegetarian cuisine like `pathiri' and kozhi curry(chicken), biriyani and fish dishes. There are many restaurants serving sea-food - prawn curry in coconut gravy is exceptionally good. Curries are eaten usually with plain steamed rice.
Almost every dish prepared in Kerala has coconut and spices to flavour the local cuisine giving it a sharp pungency that is heightened with the use of tamarind, while coconut gives it its richness, absorbing some of the tongue-teasing, pepper-hot flavours. Tender coconut water is a refreshing nutritious thirst quencher.The crunchy papadam,banana and jackfruit chips can give french fries a run for their money any day.
The typical Kerala feast served on a banana leaf, is a sumptuous spread of rice and more than 14 vegetable dishes, topped with `payasam', the delicious sweet dessert cooked in milk. Some of the delicious are: -

Rice
While Plain Steamed rice is usually taken with dishes in Sadya (Vegetarian), it is the basic ingredient. Biryanis (in Non vegetarian meals of the Arabic tradition).
Avil
Combination of vegetables like pumpkin, drumstick, potato, chilly etc and coconut sauce, it is a very popular side dish. Even mango, jackfruit and cashew nuts are included in Avil.

Thoren
Vegetables like Cabbage, Coconut, and Green chilly and mustard seed are either fried or steamed with spices like turmeric. Sometimes green papaya is used.

Sambar
It is made out of drumstick, tomato, potato, onion etc mixed with turmeric powder, chilly powder, coriander seeds and many more spices.
Olen
Beans and gourds mixed with several spices like chilly powder.

Kaalen
Made using Banana and curd mixed with coconut paste and green chilly.

Rasam
Rasam is a best for digestion. It is similar to a clear broth; Rasam may be flavoured tamarind, lemon, tomato, lentils and/or pepper.

Pachadi
Main ingredients are Pumpkin, Coconut milk and curd with green chilly. A pleasing finish to the meal.

Paayasam
Sugared rice or noodles, served as a sweet.

Snacks
Popular snacks include banana chips, yam crisps, Tapioca chips deep-fried with chilly powder. .

Sweets
There's no shortage of sweets in Kerala. Jaggery is often used as a sweetener.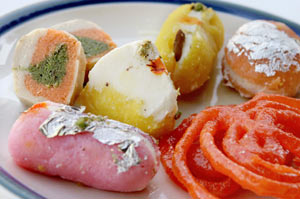 It can be boiled and made into paste form. It can be used as a sweet sauce with curd or fruit. Milk rice, coconut rice, or vermicelli sweetened with jaggery is common dessert.

Avalose is a rice-based sweet rolled into a ball with jaggery. Unniappam is pulped jackfruit, mixed with rice flour and jaggery, wrapped in a leaf and steamed.

Prathaman is lentils boiled with coconut, cardamom and ginger. Jaggery and cashew nuts are also added. Halwa is made from bananas.

Breakfast

Aappam is a Kerala favourite and there are many varieties. For breakfast this pancake is usually made from a rice flour and toddy batter. It has a thick, spongy center and very fine lacy outer section. It's usually taken with spiced sauce, sometimes with fruit.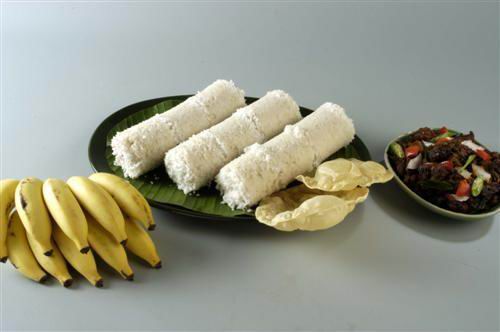 Puttu is another popular breakfast dish. It is made from rice flour dough combined with shredded coconut steamed in a bamboo stick. It is served with banana or plain with sugar.

Idali-appam is rice noodles usually served with coconut milk but they may also accompany meat dishes.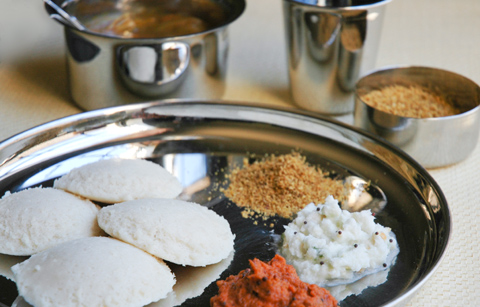 For Breakfast they have mostly either of :
Appam
Kootu Dosa
Masala Dosa
Pathiri
Palappam
Rava Idly

Vegetarian:
Avial(with coconut milk)
Beetroot Olathu
Cabbage "Peera"
Carrot Chutney
Carrot Pachadi
Cucumber Kichadi
Garlic Rasam
Koottu Thoran
Moru Kulambu
Mango Pachadi
Olan
Parippu curry
Plantain Idimas
Theeyal
Vegetable Kootu
Sambar
Vegetable Cutlets
Drumstick Leaves Erissery

Non-vegetarian:
Irachi Varuthathu
Irachi Stew
Irachi Curry
Irachi Piralen
Kozhi Masala
Kozhi Pidi
Pork Piralen
Thaaravu Varuthathu
Chicken Biriyani
Chicken Curry
Beef Chilly
Egg Masala