Search results for: Kerala Air / Bus / Train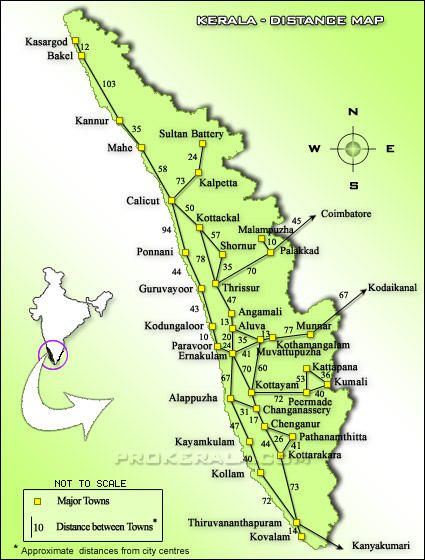 Roads
The length of roads in the State as on 31 March 1999 is 2,19,805 km. The national highways that pass through the State are NH 17, NH 47 and NH 49 with a total length of 1,011 km. The public transport system in the state consists of government buses, private buses, taxis and autorickshaws. Almost every nook and corner of the state is connected by a road network. Three National Highways - NH 47, NH 17 and NH 49, link the state with other parts of the country. There are around 200 railway stations and 101 train services connecting the state to almost all major cities of India.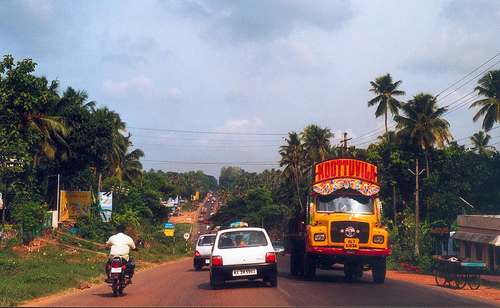 Vehicles
Luxury, Semi-luxury coaches and tourist taxis can be hired. Taxes of other States, Toll Tax, Parking Fees, Airport Entry Fee, Ferry Charges, etc., will be charged extra. If vehicle is hired or retained before 8.00 hrs. and after 20.00 hrs. night halt charges will be applicable.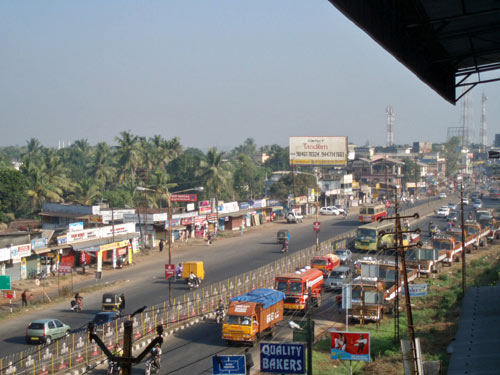 Taxis
Tourist taxis are also available throughout Kerala. Yellow-top taxis are available.
Self drive / Chauffeur driven car rental
The facility of renting a car with or without chauffeur for intra or inter city drive is available.
Autorickshaws
Available at selected stands in the major towns.
Local Bus Services
These are operated by Kerala Transport Corporation and Private Operators at regular intervals, connecting most places in Kerala.
Railways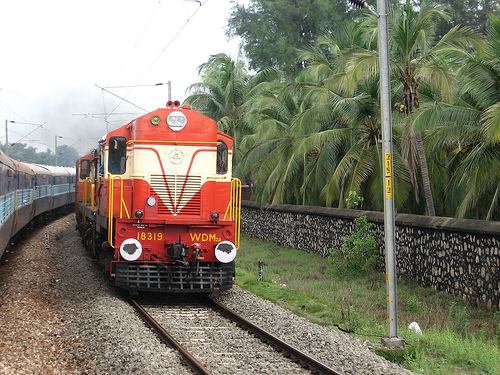 The State has a total railway route length of 1,050 km and covers 13 railway routes. It has 933 km of broad guage lines and 117 km of meter guage lines.Aviation
There are three airports, viz., Thiruvananthapuram, Kochi and Kozhikode; of which the first two are international airports. The air Transportation in Kerala include some major airports situated in Thiruvananthapuram, Kochi and Kozhikode. These airports connect the state with the nation and abroad as well. The Cochin Interantional Airport in Kochi is the first international airport in entire India that is build without any funding from the central government.

The Backwater of the state has proved to be an important way of inland navigation. The southern railway line of Indian Railways is spread across the state. Th line joins all the major towns and states with each other. Thus the Transportation in Kerala is very good ad well connected.
Ports
Among 16 ports, Kochi the only major port in the State. There are three intermediate ports and 12 minor ports. Inland water transport system is available in the districts of Kollam, Alappuzha, Kottayam and Ernakulam. Boats are used in certain areas for public transport. Under consideration is an inland waterways project for linking the southern and northern tips of the state.
Discover the exciting destinations of India, waiting to be explored with the help of world's largest network-Indian railways. An integral part of India, where Nature is at her very best. Below are some important links to check the schedule and the availability of the trains not only within India but worldwide as well The Indian Railways operate the second largest Rail network in the world and connect all major tourist and business destinations across the length and breadth of the country. The Indian Railways operate nearly 7800 passenger services a day covering almost 63,000 kms.
Kerala State Road Transport Corporation
RATE OF FARES

ORDINARY

FAST PASSENGER

SUPER FAST

SUPER EXPRESS

SUPER DELUXE

HIGHTECH

Old Rates

42ps

43ps.

46ps

54ps

63ps

75ps

Revised Rates

48ps

52ps

55ps

60ps

70ps

80ps
MINIMUM FARES

ORDINARY

FAST PASSENGER

SUPER FAST

SUPER EXPRESS

SUPER DELUXE

HIGHTECH

Old Rates

Rs.2.50

Rs.3.00

Rs.6.00

Rs.10.00

Rs.20.00

Rs.30.00

Revised Rates

Rs.3.00

Rs.4.00

Rs.6.00

Rs.10.00

Rs.20.00

Rs.30.00
Kerala State Road Transport Corporation provide public bus service to the public in different parts of Kerala like Thiruvanthapuram, Nagercoil (Tamilnadu), Kanyakumari (Tamilnadu), Colachal..... It runs approximately 4000 buses everyday for public transit service. The Kerala State road Transport Corporation was established by the government of Kerala by the notification dated, 15-3-1965. Kerala state road transport corporation buses covers approximately 1400000 Km. with an average passenger coverage of 30+ Lakhs. The corporation has introduced new services to Ananthapuri namely "Low floor Ananthapuri Air Bus" and "Ananthapuri City Fast". KSRTC does not have online booking facility. Kerala state road transport corporation has workshops, depots and subdepots in the entire state of Kerala. It would be easy for a passenger to look through the Depot codes to travel between one station to another.
The rate of fares revised and implemented in the state for various services are as follows: 42 paise for ordinary Services, 43 paise for Fast Passengers, 46 paise for Super Fast Services, 54 paise for Super Express and 63 paise for Super Deluxe Services.
The prescribed minimum charge as revised are Rs.2.50 for ordinary services,Rs.2.50 for City Fast, Rs.3.00 for Fast passengers, Rs.6.00 for Super Fast Services, Rs.10.00 for Super Express, Rs.20 for Super Deluxe services and Rs.30 for Hitech Services.