Essentials
News / Media
Travel / Tourism
Business
India Links
World Info
Community

Search results for: Kerala Weather - Live Satellite Feeds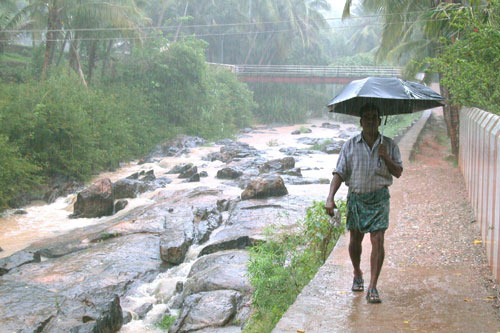 Kerala is fortunate in that it can boast of balmy weather almost all the year through. Unlike the north, it never gets too cold in the winter months, while the summers do not have the harshness of some of the other parts of the country. The result is a destination that is accessible year round. Best time is November-February when the air is bracing on some mornings there is a light mist, in the hills light woollens may be required in the evenings and early mornings. Warm (but not hot) months are March-May and September-October : at such times the flowers are out and though there is humidity, it is not daunting. Mid-May to August is the monsoon period, so you can expect a wet time. In addition, June can also be windy.
The URL you supplied is either not RSS or the site is down at this time. Please check the feed URL or refresh the page.
| | |
| --- | --- |
| Summer | Feb - May (24o - 33o C) |
| Monsoon | Jan - Sep (22o - 28o C) |
| Winter | Oct - Jan (22 - 32o C) |
LIVE FORECAST
Winter
The winter season sets in during the month of December and continues till end of February. During this season comparatively there is less rainfall especially in the northern parts of the state.

Summer
Winter is followed by the summer season. Its tarts in February and continues till May. Temperature is very high during this period. Occasional showers with Lightning is a characteristic of this season. Kottayam receives the highest rainfall during this season.

South West Monsoon
The South West Monsoon begins either in the end of May or in the beginning of June and fades out by September. Moving towards north, this seems to gain intensity. During this period Peerumedu in Idukki and Vaithiri-Kuttiyadi range in Malabar receive the highest rainfall. The rainfall is comparatively low in the Lakshadweep islands. In the southern areas the monsoon is around 40-50% and in the northern areas it is around 80%.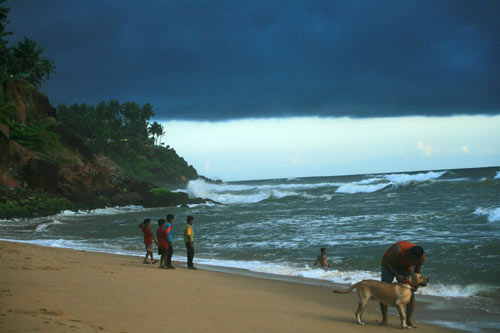 North East Monsoon
The NorthEast Monsoon commences in October, dry weather setting in by the end of December. The Kanjirappalli-Peerumedu range and Kuttiyadi area experience the abundance of NorthEast Monsoon. The northern parts of the state account for a mere 10% of the annual rainfall.

Temperature
The annual range of temperature is comparatively low in Kerala. The coastal areas record a maximum temperature of 32c and a minimum of 22c.The interiors record a maximum of 37c during summer. In the coastal area it is hot and humid during April-May while cool during December-January.